OU and OSU Shared Technology Services Six Month Update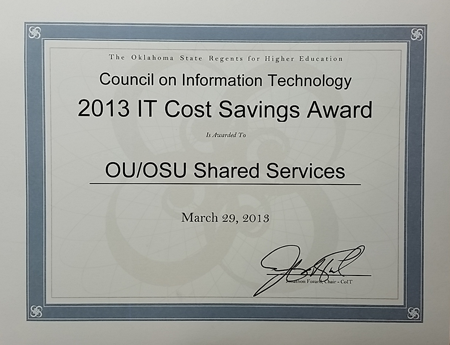 The OU and OSU Information Technology leadership teams now meet regularly to identify, promote and engage on opportunities to create efficiencies and create value for our institutions. The benefits of our collaboration are extended to other state educational institutions through our partnership with the Oklahoma State Regents for Higher Education CIO and OneNet. Specific efforts to collaborate, share services and contracts have created cost efficiencies in support of the Governor's modernization initiatives.
Our work began with the development and release of a statement of collaboration between OU, OSU and OneNet. In the seven months since then, representatives from our combined eight campuses created several workgroups and initiatives covering numerous technologies and activities, all working towards creating a shared services environment. This environment will contain the necessary frameworks for providing trusted access to each other's computing resources, for leveraging key purchasing contracts, for maximizing staffing through shared training resources, for sharing information such as service catalogs and project portfolios, and, in collaboration with OneNet, enhancing network connectivity between campuses.
Read the full six month savings report
Related Collaborations